PM GLOW ROUTINE Micellar W + GGlow + Power H
Regular price

115,00€

Sale price

98,00€
These are our picks for every night if what you want is to combat dull skin without luminosity, renew the appearance of your skin. Short but effective routines, your skin will not need more.
MICELLAR W: Innovation in liposomal micellar water with assets such as Hyaluronic Acid and Vitamin C, not only cleanses, but also provides hydration and luminosity. Repairing and energizing our skin from the first use. Size: 200ml
GGLOW: Treatment cream formulated with exfoliating acids. Its function is to improve the appearance of pores, acne and skin texture through chemical exfoliation. It is also the ideal product to improve the signs of aging and treat hyperpigmentation and acne marks. Size: 30ml
POWER H: Developed with Hyaluronic Acid of 3 different molecular weights, vitamin E, Niacinamide, Ceramides and provitamin B5. POWER H penetrates even into the deepest layers of the skin. There is nothing like hydrated skin. Size: 50ml
Product DERMATOLOGICALLY TESTED
This product is jointly formulated by a physician and a pharmacist . It contains active ingredients encapsulated in liposomes that are up to 6 times more powerful than the active ingredient in free form.
Suitable for pregnant women
Includes headband while stock last
Share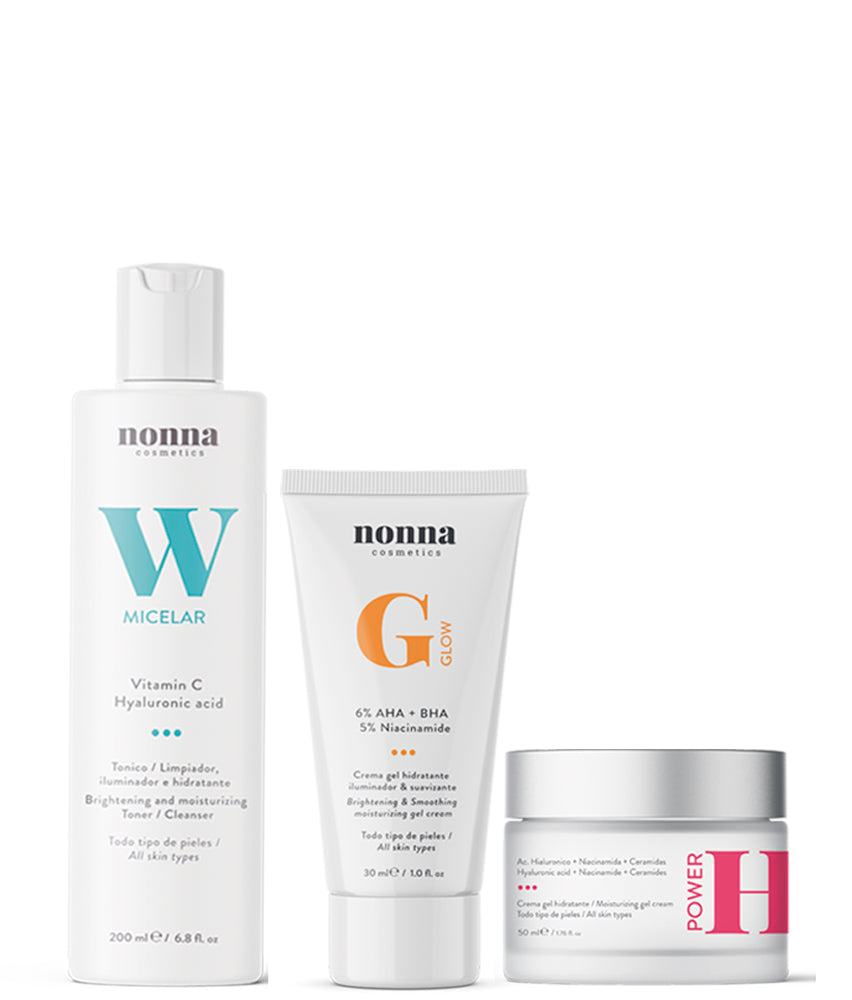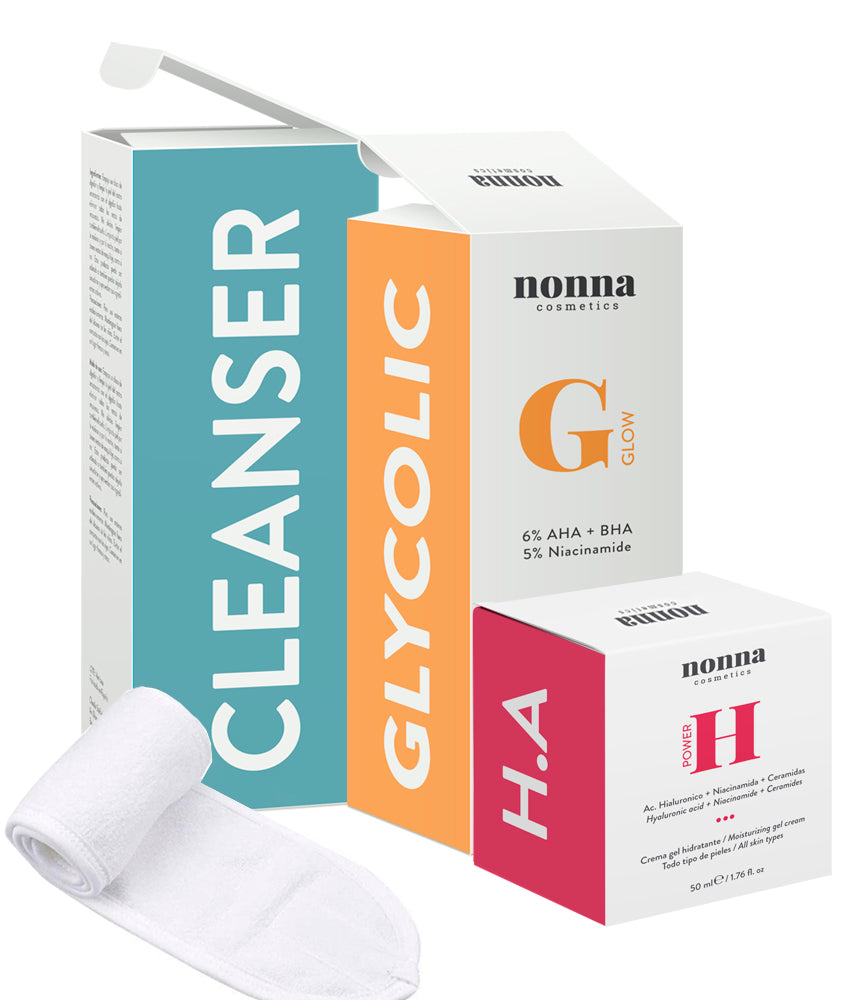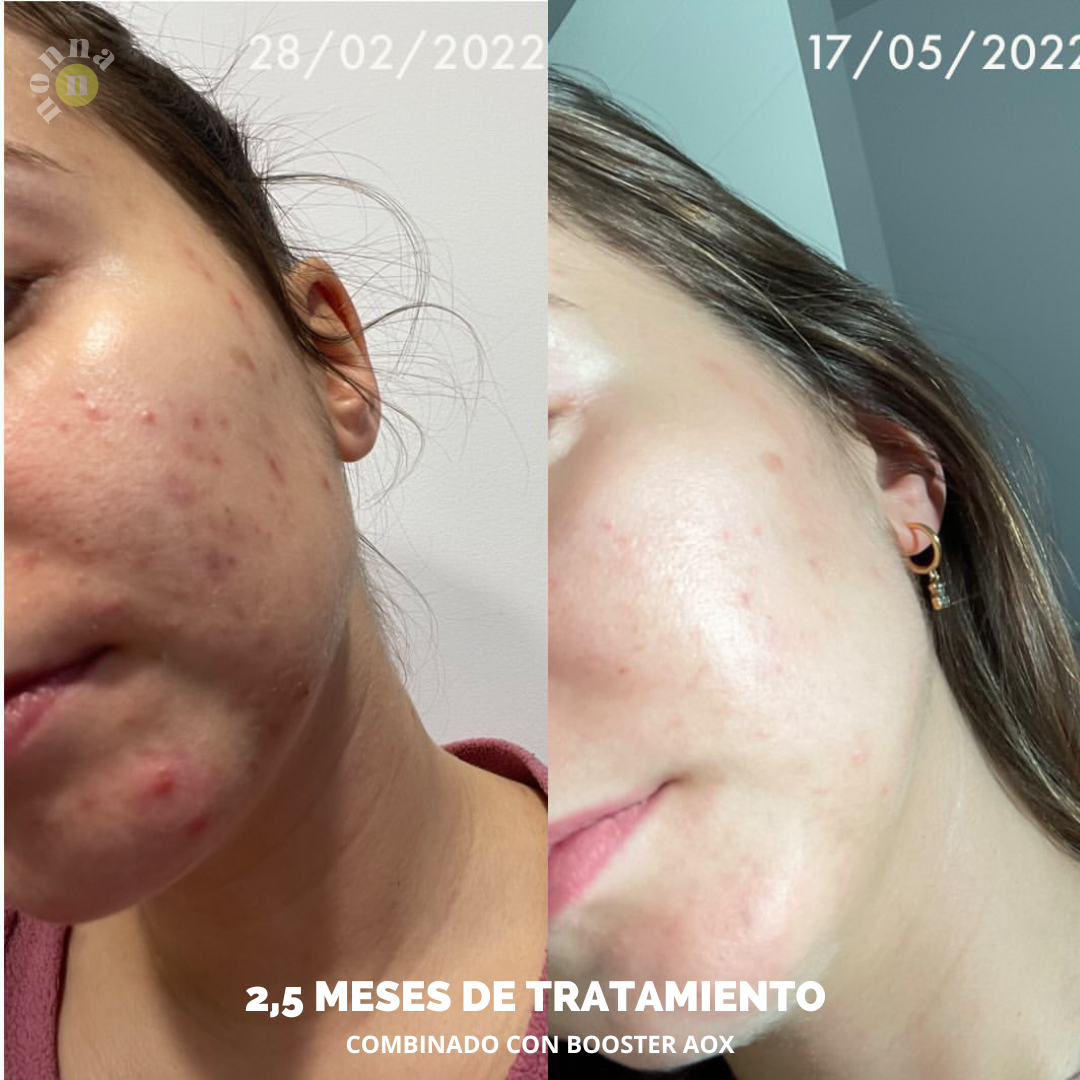 More information
ingredients & benefits

Products formulated with liposome active ingredients, dermatologically tested, Suitable Vegetarians & Award-winning active ingredients

Vitamin C: Vitamin C is one of the essential vitamins for the care of your skin, as well as a powerful antioxidant. Among all its multiple benefits, the following stand out: Activates collagen synthesis and is an epidermal repairer.
Fight against free radicals. Improves the texture of your skin and reduces spots, unifying the tone. Brighter skin and lots of GLOW!

Vitamin E Like all antioxidants, Vitamin E helps protect cells against damage caused by free radicals. Delays skin aging. Helps in the elimination of scars and pimples. Stimulates the microcirculation of the skin. In addition, it is a super moisturizing active ingredient that helps maintain the smooth appearance of the skin.

Ferulic Acid Ferulic acid has the particularity of improving the production of collagen and elastin fibers. It is for this reason that it is identified as a powerful ally to combat the appearance of wrinkles, as well as the dreaded spots produced by the action of the sun.

Green Tea The extract of green tea leaves is used in cosmetics as a powerful antioxidant and anti-inflammatory. It inhibits the reactions favored by oxygen, thus preventing oxidation and rancidity. Astringent, tightens the skin pores. Emollient, softens the skin. Moisturizing, it helps to avoid the harmful effects of external factors on the skin. Invigorating, it produces a sensation of well-being on the skin. UV absorber, protects the skin from the effects of UV light.

Citric Acid When citric acid is applied directly to the skin it acts like an AHA. And it exfoliates the cells improving the complexion of fine lines, wrinkles and stretch marks. Improves skin cleansing. It contributes to improving acne as well as decongesting pores.

Resveratrol It is a super complete and powerful antioxidant. It is found in various plants and especially in the skin of red grapes, currants, blackberries, and peanuts. Resveratrol protects against UVB rays and their oxidative damage to the skin. It promotes collagen production, has anti-inflammatory properties, and prevents premature aging of the skin, as well as blemishes.

Spirulina Spirulina is rich in antioxidants, mineral vitamins and omega fatty acids. All these nutrients make the skin look more hydrated and rejuvenated, which is why it is also recommended for mature skin to counteract the effects of skin aging.

Hialuronic Acid Hyaluronic acid is an active ingredient with high moisturizing power. Good skin hydration ensures turgidity, elasticity, good texture and above all helps prevent the appearance of wrinkles and treats existing ones thanks to its three different molecular weights.

Ceramides They are natural lipids found in our skin. Over time our body produces fewer ceramides naturally. They are responsible for keeping the skin barrier hydrated and healthy. They help prevent water loss. They unite our cells thus avoiding the dryness of the tissues. Helps reduce the sensation of dryness and lack of elasticity, while at the same time reducing expression lines.

Niacinamide Niacinamide really offers multiple benefits to the skin. Helps reduce the appearance of fine lines and wrinkles. Optimize hydration levels. Helps reduce redness and blemishes. Helps improve cell renewal on the skin's surface, for greater luminosity. It works to inhibit the processes that cause pale or yellow skin tone. Helps reduce the appearance of dark spots. Help reduce the appearance of pores. Inhibits sebum production. Increases collagen production. Fight acne

Panthenol helps skin stay soft, smooth and healthy. It also has an anti-inflammatory effect that can help stimulate healing processes in the skin. Deeply hydrating, it helps keep skin quenched by absorbing moisture from the air.

Liposomes: they are systems capable of increasing skin hydration, since their composition (phospholipids, cholesterol, ceramides) is closely related to the intercorneocytic lipids responsible for skin turgor.
HOW LONG DOES THE PRODUCT LAST?

You can expect this routine to last about 3 months or so. Some products that are not applied daily can last even longer.
WHEN WILL I SEE RESULTS?

The time to see results may vary depending on each skin and our particular goal.

In general, the results become more visible after 15 days.
How does it apply?

At night:

Start your routine by cleansing your face, neck and décolleté with our MICELAR W cleansing toner. Then apply GGLOW and to finish, deeply hydrate with POWER H.

*Cautions: For external use only. Keep out of reach of children. Avoid contact with eyes and mucous membranes. Store in a cool, dry place.
how to recycle the product?

We are as concerned about our environment as you are, that is why nonna not only has theEcoembes green point, but we also teach you how to recycle your product.

When your product is made up of plastic and glass, the first step is to separate what is plastic on one side and glass on the other.

All the pieces made of plastic must be disposed of in the yellow containers, while all the pieces made of glass must be disposed of in the green containers.

These plastics are transported to a treatment plant , where they will be classified by type of container. After classifying them, they will be crushed, to later go through the washing phase, where other types of materials that are not plastic will be eliminated. With the centrifugation and drying, it is possible to leave the material free of water and clean to, finally, obtain small balls called pellets, which is what will be used as raw material to manufacture other products.

The ideal way to recycle glass is to first empty the container to eliminate any remaining product residue, and be able to deposit it in its corresponding container. You should also remove the label from the container if it is carried and possible.

We encourage you to try it!
inci

You can find this information on the page of each of our products
consult a professional
Visible results in real people. If you have doubts you can send us your query
Consult
Rutina PM Glow
Desde principios de este año estoy utilizando la rutina PM Glow y desde la primera noche que seguí la rutina noté una mejoría visible en la textura de mi piel. Siempre solía tener en la frente pequeños granitos casi invisibles pero bastante notables al tacto que han desaparecido, el tono de mi piel está claramente más uniforme.
Seguiré comprando los productos de NONNA sin duda.
Hola, llevo poco más de un mes utilizando vuestros productos, mi principal preocupación son los granitos y algunas marcas que me han quedado en la piel. Tengo que deciros que estoy encantadísima con ellos, tengo la piel muy sensible y siempre que comenzaba a usar otros productos los terminaba dejando porque notaba que más que mejorar mi piel la estaban empeorando (rojeces, tirantez, escozor, más granitos, etc.). Hasta que me apareció una publi en instagram sobre vuestra marca y empecé a informarme, me gustó mucho la manera que tenéis de ofrecer información sobre los productos (que me parece cercana y a la vez profesional), además de la cantidad de opiniones positivas y los casos de antes y después. Así que decidí empezar con la rutina que os he comentado e ir muy poco a poco debido a mi tipo de piel (si es verdad que los primeros días, sobre todo el día que apliqué el glow se me irritó un poco la piel, pero me pasó a los pocos minutos). A día de hoy es la primera vez que soy constante aplicando una rutina, y no puedo estar más contenta! Obviamente esto es porque estoy notando beneficios, no me veo la cara con un aspecto tan cansado, sino que tengo más luminosidad y ya no me salen tantos granitos como antes. Enhorabuena de nuevo por vuestros productos de verdad, son increíbles!!
Este trío son maravillosos! Mi piel sufre de acné y la realidad es que no me esperaba estos cambios! Gracias !
Cumple con todo lo que promete! Estoy encantada! Muchas gracias, llevaba ya tiempo sin ver mi piel tan bien!
Están en mi lista de imprescindibles para el cuidado de mi piel. El Gglow de veras que ha sido un antes y un después!