FULL PM ROUTINE Micellar W + Starter R + GGlow + Power H
Regular price

165,00€

Sale price

146,00€
This combination is the most complete option for your routine evening if your goals is to achieve radiant, smooth and above all healthy skin. Four products that cover the most important aspects of the skin, a combination of perfect products for your PM routine.
MICELLAR W: Innovation in liposomal micellar water with assets such as Hyaluronic Acid and Vitamin C, not only cleanses, but also provides hydration and luminosity. Repairing and energizing our skin from the first use. Size: 200ml
GGLOW: Treatment cream formulated with exfoliating acids. Its function is to improve the appearance of pores, acne and skin texture through chemical exfoliation. It is also the ideal product to improve the signs of aging and treat hyperpigmentation and acne marks. Size: 30ml
STARTER R: 0.15% Retinol + 1% Bakuchiol + 5% Niacinamide, is a powerful treatment that fights against the signs of aging, improves acne, pore size and imperfections such as hyperpigmentation, without irritating the skin. Size: 30ml Not suitable for pregnant women
POWER H: Developed with Hyaluronic Acid of 3 different molecular weights, vitamin E, Niacinamide, Ceramides and provitamin B5. POWER H penetrates even into the deepest layers of the skin. There is nothing like hydrated skin. Size: 50ml
Product DERMATOLOGICALLY TESTED
This product is jointly formulated by a physician and a pharmacist . It contains active ingredients encapsulated in liposomes that are up to 6 times more powerful than the active ingredient in free form.
Includes toiletry bag until stock last
Share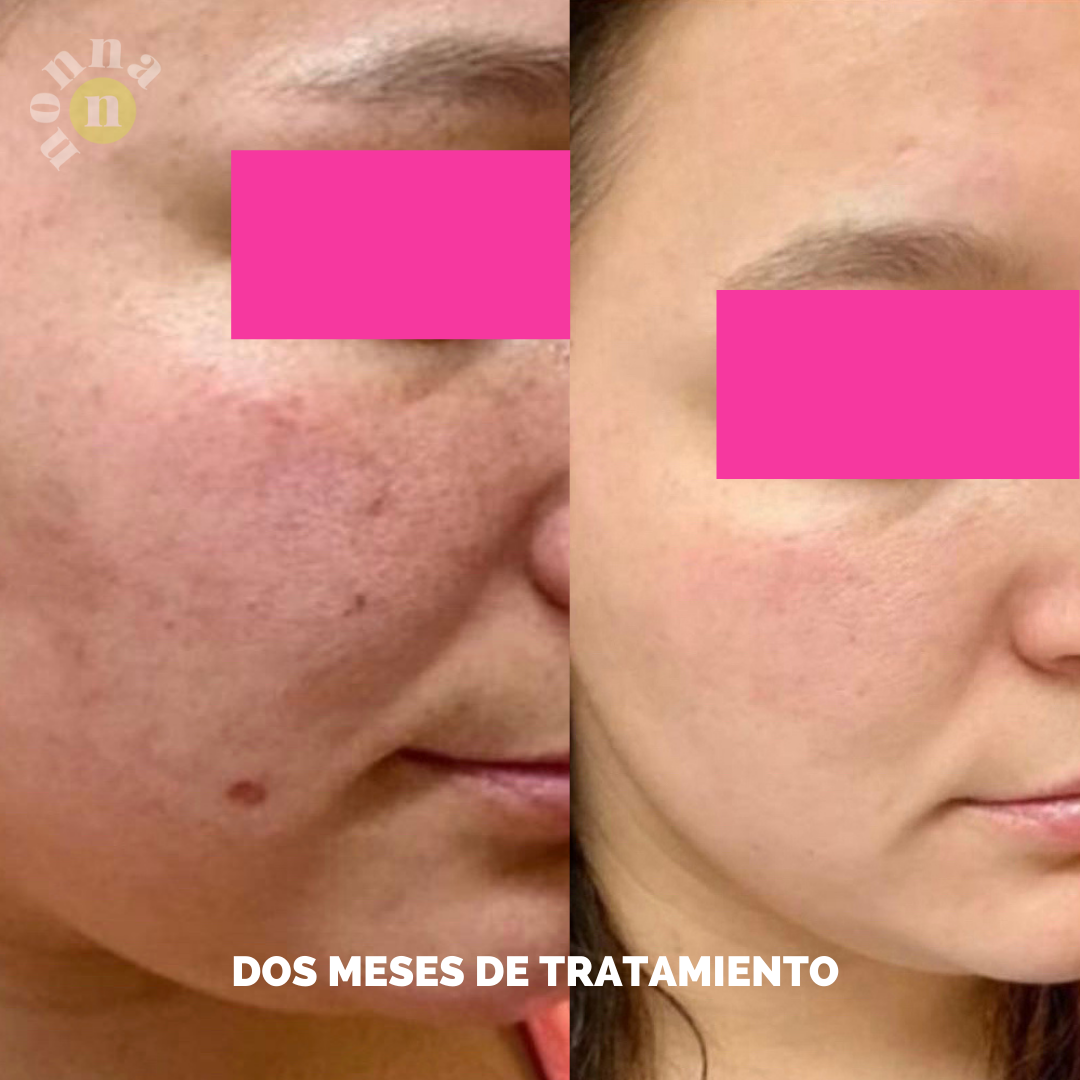 More information
ingredients & benefits

Products formulated with liposome active ingredients, dermatologically tested, Suitable Vegetarians & Award-winning active ingredients

Vitamin C: Vitamin C is one of the essential vitamins for the care of your skin, as well as a powerful antioxidant. Among all its multiple benefits, the following stand out: Activates collagen synthesis and is an epidermal repairer.
Fight against free radicals. Improves the texture of your skin and reduces spots, unifying the tone. Brighter skin and lots of GLOW!

Vitamin E Like all antioxidants, Vitamin E helps protect cells against damage caused by free radicals. Delays skin aging. Helps in the elimination of scars and pimples. Stimulates the microcirculation of the skin. In addition, it is a super moisturizing active ingredient that helps maintain the smooth appearance of the skin.

Hialuronic Acid Hyaluronic acid is an active ingredient with high moisturizing power. Good skin hydration ensures turgidity, elasticity, good texture and above all helps prevent the appearance of wrinkles and treats existing ones thanks to its three different molecular weights.

Ceramides They are natural lipids found in our skin. Over time our body produces fewer ceramides naturally. They are responsible for keeping the skin barrier hydrated and healthy. They help prevent water loss. They unite our cells thus avoiding the dryness of the tissues. Helps reduce the sensation of dryness and lack of elasticity, while at the same time reducing expression lines.

Niacinamide Niacinamide really offers multiple benefits to the skin. Helps reduce the appearance of fine lines and wrinkles. Optimize hydration levels. Helps reduce redness and blemishes. Helps improve cell renewal on the skin's surface, for greater luminosity. It works to inhibit the processes that cause pale or yellow skin tone. Helps reduce the appearance of dark spots. Help reduce the appearance of pores. Inhibits sebum production. Increases collagen production. Fight acne

Retinol: the quintessential anti-aging active ingredient that improves the texture and appearance of the skin. Attenuates wrinkles, unifies skin tone and helps to have firmer and younger skin.

Bakuchiol: BAKUCHIOL is considered the natural and non-irritating alternative to Retinol. It is a "Retinol-like". It comes from the BABCHI plant and is scientifically proven to help: Reduce expression lines, provide firmness and smoothness to the skin, less hyperpigmentation, restore elasticity, regulate sebum, anti-inflammatory and anti-acne. Thanks to its great tolerability it can be used on all skin types, even the most sensitive.

Tranexamic Acid: it is an active ingredient used in the treatment of hyperpigmentation thanks to its depigmenting action that combats dark spots and melasma.

Glycolic Acid: It is the smallest molecular chain hydroxide, which allows it to penetrate the skin faster to deeper layers. Combat dull skin, reduce acne scars and pore size, provide luminosity, lighten hyperpigmentation and combat wrinkles.

Lactic Acid: Exfoliates dead cells, which refines the texture of the face, provides luminosity and combats hyperpigmentation. Stimulates collagen production, resulting in more firmness, elasticity, closed pores, and a reduction in the appearance of fine lines.

Salicylic Acid: Topical use relieves acne by reducing swelling and redness. Helps control excess sebum, efficiently exfoliate inside the pore, helping to reduce its size.

Azelaic Acid It is an active ingredient of natural origin that has antibacterial and anti-inflammatory capacity. It is also widely used for its depigmenting properties, the most important thing about this last property is to highlight that this asset works selectively. In other words, their job is to identify and treat only the affected areas.

Panthenol helps skin stay soft, smooth and healthy. It also has an anti-inflammatory effect that can help stimulate healing processes in the skin. Deeply hydrating, it helps keep skin quenched by absorbing moisture from the air.

Liposomes: these are systems capable of increasing skin hydration, since their composition (phospholipids, cholesterol, ceramides) is closely related to the intercorneocytic lipids responsible for skin turgor.
HOW LONG DOES THE PRODUCT LAST?

You can expect this routine to last about 3 months or so. Some products that are not applied daily can last even longer.
WHEN WILL I SEE RESULTS?

The time to see results may vary depending on each skin and our particular goal.

In general, the results become more visible after 15 days.
How does it apply?

At night:

Start your routine by cleansing your face, neck and décolleté with our MICELAR W cleansing tonic. Then apply GGLOW or STARTER R (we recommend using it every other day) and to finish, deeply hydrate with POWER H.
how to recycle the product?

We are as concerned about our environment as you are, that is why nonna not only has theEcoembes green point, but we also teach you how to recycle your product.

When your product is made up of plastic and glass, the first step is to separate what is plastic on one side and glass on the other.

All the pieces made of plastic must be disposed of in the yellow containers, while all the pieces made of glass must be disposed of in the green containers.

These plastics are transported to a treatment plant , where they will be classified by type of container. After classifying them, they will be crushed, to later go through the washing phase, where other types of materials that are not plastic will be eliminated. With the centrifugation and drying, it is possible to leave the material free of water and clean to, finally, obtain small balls called pellets, which is what will be used as raw material to manufacture other products.

The ideal way to recycle glass is to first empty the container to eliminate any remaining product residue, and be able to deposit it in its corresponding container. You should also remove the label from the container if it is carried and possible.

We encourage you to try it!
inci

You can find this information on the page of each of our products
consult a professional
Visible results in real people. If you have doubts you can send us your query
Consult
Estoy flipando
Estoy flipando con mi piel. Ha pasado de estar reseca , tirante y con manchas a super jugosa, suave y se me han difuminado un monton las manchas ( sufro desde hace muchos años melasma, ni con laser desaparecen) con la rutina noche y dia de nonna estoy encantadissima! La he recomendado ya a todas mis amigas y estan igual de encantadas que yo! Gracias Nonna! Os dejo mi antes y después!
Mejor rutina que he probado
No es que lo diga yo, es que desde que uso esta rutina a la gente de mi alrededor le llama la atención mi piel. Ya tengo varias amigas/conocidas que se han unido al universo nonna y todas estamos super contentas con los resutlados. En resumen, una maravilla.
Primer mes efecto purga 😩
Supongo que pasará, los tratamientos requieren paciencia
Me encantan sus productos
Es la segunda vez que compro sus productos, me regalaron un neceser, encantada con todo, 100℅ recomendable
NONNA FUNCIONA✨
Antes de empezar con los productos de nonna llevaba unos dos años con un brote de acné, había probado mil productos pero sin ninguna mejoría. Con nonna he ido viendo mejoría poco a poco, como decís no hace milagros pero puedo asegurar que funciona ✨✨Es una rutina fácil, con pocos pasos pero muy eficaces y eso es lo que buscaba. Solo tengo palabras de agradecimiento, mil gracias❤️
Maitane.